Pot Lights (also known as recessed lighting) are an elegant & modern home lighting solution. Whether it's the kitchen, the bathroom, the bedroom, or anywhere else in your home, recessed lighting is a great way to provide consistent home lighting in a subtle form factor.
Professional Residential & Commercial Pot Light Installation
Lokert Electrical Contractor Ltd. is a sub-division of Lokert Canada.
We have years of experience helping our clients across the Burlington area with stunning home transformations, whether it be electrical work, plumbing, installations, or anything else.
Pot light installation is one of our specialty electrical services. You can put your trust in us to get the job done, correctly, on time, and all for a competitive rate. Whether it's for a single room in your home, or an entire commercial property, our team of licensed electricians can deploy recessed lighting across your property in a high-quality fashion to ensure excellent lighting for any space.
Our expert team of licensed electricians will ensure that any work performed in your home or business is done by causing as little disruption as possible to your property. Along with all light fixtures, we will install any necessary wiring, switches and outlets.
All our work is up to ESA (Electrical Safety Authority) standards.
Perfect Lighting for Any Room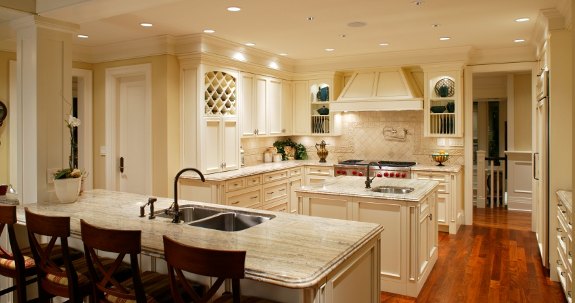 Recessed lighting is becoming increasingly popular as a home lighting solution in both newly constructed homes, as well as renovations & remodels. Whether it's for the kitchen, bathroom, or the bedroom, pot lights allow you to achieve even lighting across any space without sticking out like a sore thumb.
As their name implies, pot lights or recessed lights sit inside your ceiling so that they are flush with the surface. This gives them a low-profile form factor that allows you to highlight your home décor rather than distract from it. You can choose from multiple sizes and styles of trim – such as metallic or white – to suit any style.
Get a Quote for Home Lighting & Pot Light Installation
Get in touch with us today to inquire about pot lights or any general light fixture installation in Mississauga, Burlington, Oakville or surrounding areas. Whether for your home lighting or business. Ask us for a quote for light fixture installation or any other electrical or lighting work required for your property.